Wallpapering Installation and Removal Tips - DIY - Do It Yourself
This section has been designed to assist you in doing your own wallpapering, if you would rather tackle this task yourself.
By following the advice presented here you may even find it to be effective and enjoyable as well.
The most important steps you will learn are how to prepare a wall, estimate materials, and how to hang paper. Pay particular attention to the section on wall preparation and repair.
Many people are tempted to skip over this step - but it really is the key to achieving a more perfect and professional finish.
Before starting a decorating task, you may find that you need to remove old wallpaper first.
Click here for Wallpaper Removal 
If you have questions about any topic related to wallpapering, including how to remove or strip wallpaper, what's the best tool to use, how to install wallpaper yourself - should I use a clear or clay based paste?, where can I get someone to hang my wallpaper for me in South Dakota - or really, any other question you can or can't think of; if its related to wallpapering then simply the Best place to get all your questions answered by a team of highly skilled professional paperhangers is at the National Guild of Professional PaperHanger's website NGPP Forum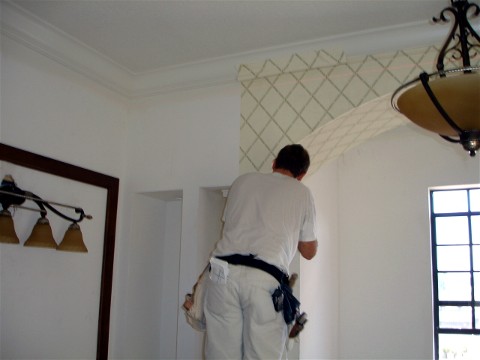 Wall-papering can be easy and fun if you follow these steps.
I have learned many tips and tricks during my wallpaper hanging career to produce a professional finish in a time efficient manner. One tip I have learned is to cut the thicker bamboo wallpapers with a chop saw. Click here for information on how to cut bamboo with a chop saw
Hunter WallCoverings is a Proud Member of the NGPP

Return from wallpapering to designer-wallcoverings home