A Gallery of Designer-WallCoverings Pictures
I have selected an array of Hunter WallCoverings designer-wallcoverings pictures to create this photo gallery.
You can find examples of WallCovering Pictures all through this website but they are small and I wanted you to be able to view bigger photos, without slowing down the loading time of the other pages.
These pictures of designer-wallcoverings pictures are grouped by theme. You can choose any of the links below to view the whole designer-wallcoverings photo gallery 
Below are some examples of designer-wallcoverings pictures that Hunter WallCoverings have installed.
This is an example of a 27 inch unpasted vinyl residential wallcovering. If the corners of a room are not square or are out of line, then in some instances this can cause problems. However, a professional installer can minimize the effects of potential problems. Here, with the help of a PLS II Laser Level the striped paper was installed with straight lines which can help to make a small room appear larger. 
Below is another example of a professional wallcovering installation by Hunter WallCoverings. This was installed in an Arthur Rutenburg Model Home. The complicated pattern gives enormous impact in a room. The many alcoves, corners, wraps and soffits and an arch in the room, while adding to the overall interior design impact make it extremely difficult to install this paper to keep all lines and pattern matches even and accurate. Correct engineering of the job (paper alignment and cut) have helped to deliver a perfect install.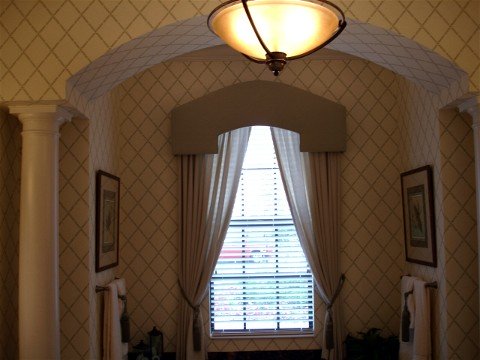 Return from Designer-Wallcoverings Pictures to Home