Images of textured wallpaper on the ceiling
Below are images of wallcovering which has been installed on ceilings by Hunter WallCoverings in Tampa Florida.
Natural materials which are eco friendly, including grasscloth, sea grass and bamboo are all used as textured wallpaper on the ceiling. They are a very popular choice used by interior designers to highlight focal points such as in a tray ceiling.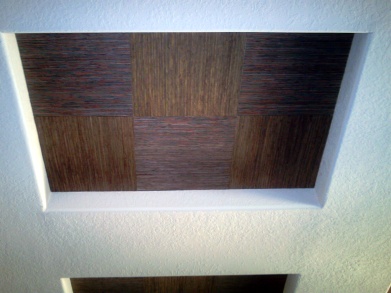 ---
It is not an easy task to install wallpaper on the ceiling and as this frequently involves the use of scaffolding and more than one pair of hands.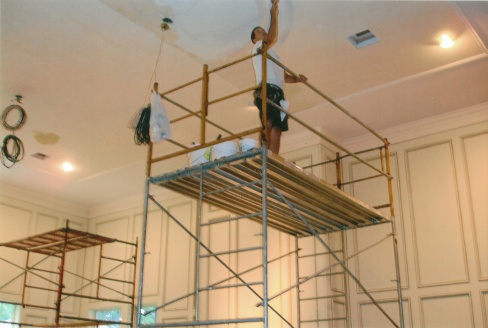 It is usually a good idea to employ the use of a professional paper-hanger such as Hunter WallCoverings.
Below are more images of wallcoverings that I have installed on high ceilings using scaffolding. Here, the textured wallpaper on the ceiling is Weathered Stone. Weathered Stone is the world's first "bendable stone." This allows the material to be moulded to the contours of a ceiling and yet still convey the impression of real stone and the effect is stunning.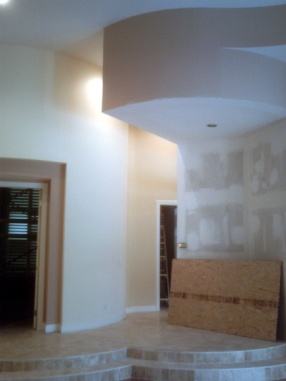 ---
Above is the wall before weathered stone is applied and below the image shows part of the installation process.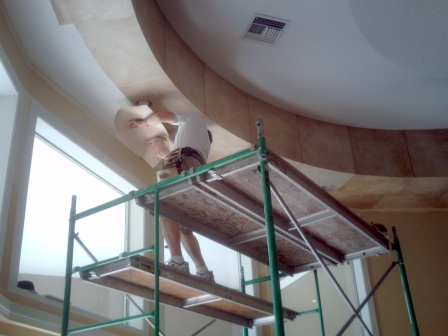 ---
Often interior designers will not use wallcovering on an entire wall; especially when they are using it to decorate the ceiling. The image below shows how the Weatherd-Stone is used to emphasize the architectural detail of the tray ceiling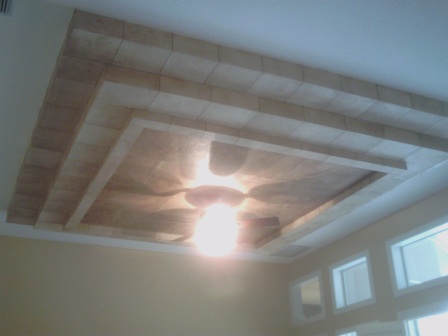 ---
This image shows how flexible Weathered Stone is and how impressive it looks when installed on curved surfaces which would never be possible with "real" stone. However, after the material is grouted and set, no one can ever tell that this is not the real deal.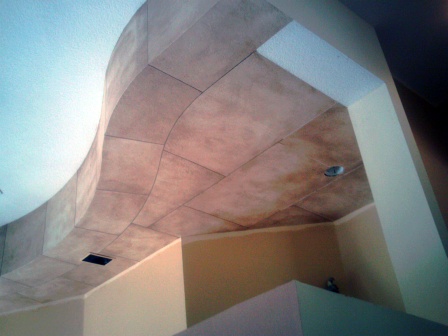 ---
Return from Textured Wallpaper on the Ceiling to Home