Textured wallcovering

Using naturally textured wallcovering helps to hide problem walls, absorb noise and add depth and dimension to a room. Environmentally friendly wallcoverings are enjoying a design renaissance. These papers include bamboo, grasscloth, sea grass burlap and jute.
A spokesperson for the Wallpaper Council says there is definitely a resurgence of interest in natural fibers for wallcoverings. "We strive to create spaces that incorporate those elements in nature that make us feel good. The topic of nature is ever present in wallcoverings, but the beauty found in the irregularities of natural materials enhances the design and the color . . . Grasscloth adds a soft texture and an understated color to walls that does not compete, but complements other fabrics, furniture, carpets or artwork in a room. Also, today many people are decorating with 'natural' type products. Everyone prefers 'natural' today, from organically grown foods to natural fibers like silk and cotton, rather than synthetics in our clothing.
The Wallpaper Council insists that traditional grasscloths are still very much "in," though some of the newer grasscloths have bolder colors, no longer the neutral/natural colorations. Some new grasscloths have backgrounds of black, red, green, gray and other saturated colors to offer a more dramatic yet still natural look. The visible seams that result when panels of grasscloth are hung on walls are part of its distinctive aesthetic.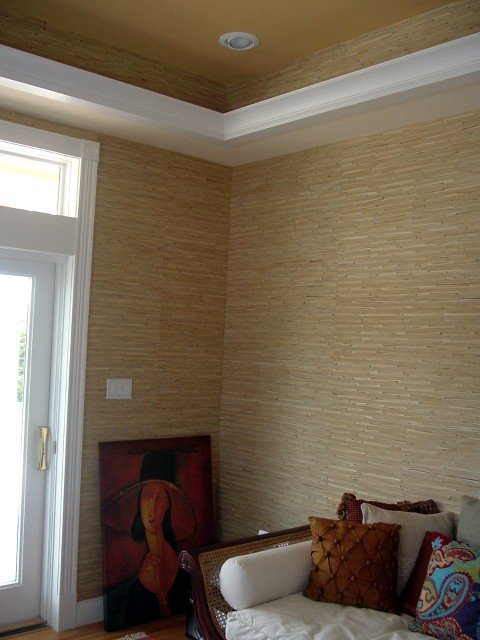 Return from textured wallcovering to Home