Weathered-Stone product for your walls, columns, back-splash and more
Weathered-Stone is a handmade patented natural stone replica product that can be used to create authentic stone designs on walls, countertops, floors, ceilings and much more.
The virtue of Weathered Stone® is how it achieves authenticity as it is installed. While wet, Weathered Stone becomes pliable, the result is a sheet of stone that can be molded, bent and shaped around any surface. As the glue dries the installed pieces become solid. The final step of grouting the seams gives the installed product added depth, delivering a realistic stone look to any surface.
Weathered Stone is a unique faux stone product. In fact, it is so authentic looking that most people are completely unaware that it is not real stone.
It also has a Class A fire rating and is therefore a perfect application over a fireplace. This rating also makes it a good product for commercial applications; and because it is so strong and easily repairable it is also a perfect use in Hotels and high end retail destinations that are high traffic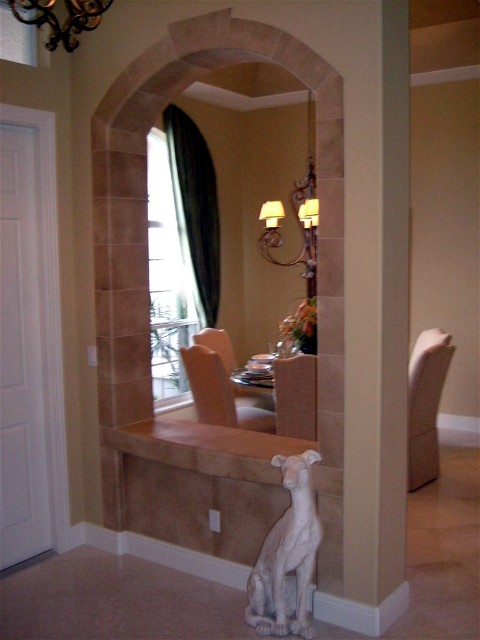 Click here to see more images of weathered-stone installed by Hunter WallCoverings 
There are many additional exciting uses of Weathered Stone. The pliability of the product when it is wet allows it to be molded to different surfaces. This allows Weathered Stone to be applied to arches and columns as well flat surfaces. Weathered Stone can be easily wrapped around columns and arches and the grout adds extra depth and texture to the columns.
Return from Weathered-Stone to Home Page