Cut bamboo wallcovering quickly and easily
It can be difficult to cut bamboo wallcovering. Bamboo and grasscloth wallcoverings certainly look nice. And they definitely fit in with the current trend in eco-friendly designs. According to the EPA, indoor air is three times more polluted than outdoor air and is considered to be one of the top 5 hazards to human health. Paints and finishes are considered among the leading causes of polluted air. Therefore, it makes sense to use eco -friendly wallcoverings.
Bamboo is one of the fastest -growing plants, is a renewable resource and is a popular choice for eco-friendly decorating. 

---
Bamboo wallpapers are made from grass and are fast growing. Unlike hardwoods, which take many decades to mature, bamboo can be harvested in three to five years, regenerates without need for replanting and requires minimal fertilization or pesticides. 
However, from the wallpaper hanger's point of view, bamboos can be a challenge. Grasscloth wallcoverings generally cut easily, but the thicker bamboos are, the more difficult it is to cut bamboo wallcovering.
The method I have been using recently may not be the answer to all bamboo cutting problems, but it has certainly eliminated 75% of the problems I was having in cutting thick bamboo with a straight edge and in a time efficient manner.
In my opinion, I believe that paneling a job, where possible, is the best way to install bamboo wallpapers. The easiest method I have found to cut panels of bamboo wallcovering down to size is to use a circular chop saw. It may sound extreme, but it works well to cut the edges of the bamboo wallcovering cleanly and it is extremely quick and efficient - no more struggling to saw through the bamboo with tin snips.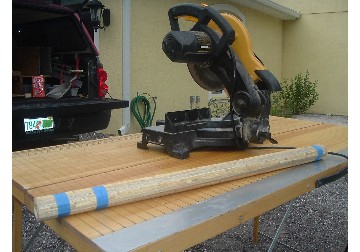 ---
At first, I used a 1/8" grinding blade in the chop saw. This works well on the darker bamboos, but can leave a slight burning mark on the lighter bamboo papers. The marks have not been severe enough to present a major problem and the paper can usually be placed to hide any marks that do appear, for example, by placing the paper against a window trim.
However, by experimenting, I have found that it is better to use a fine toothed tungsten-tip blade "reversed." This means placing the blade in the chop saw in the reverse direction - then it cuts the paper without marking it and also does not "grab" the material and cause problems when you are trying to cut. 
The method I use is to:
Take a roll of bamboo wallcovering and make sure it is tightly rolled.
Stand the bamboo on end and tap gently to make sure the edges are straight.
Wrap blue masking tape tightly around each end - about 1 inch in from each end.
Place another piece of blue masking tape around the place where you intend to cut - this will depend on the size of the panels you want to use.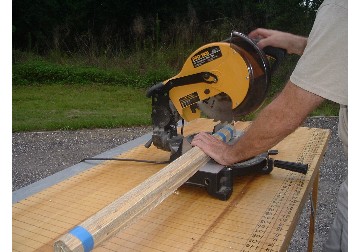 ---
| | |
| --- | --- |
| 5. | Place the bamboo in the chop-saw; hold on tight to the roll of paper and cut slowly.  |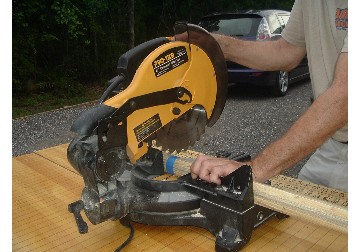 ---
This method will help to cut the bamboo wallcovering for paneling. It will not help for cutting the bamboo when you get to installing in the corners. There are different methods to cut for corners, including use of a template - but that is the topic of another article.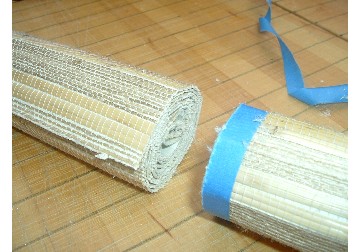 ---
Before using this method of how to cut bamboo wallcovering, it would be important to try some experimental cuts first, to practice using the chop saw.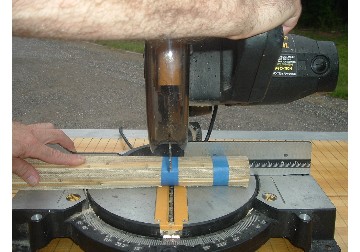 ---
As you can see, the finished result is a nicely cut straight edge which can be achieved quickly and cleanly; it helps the paperhanger to use his time efficiently and helps to give the seams of the cut bamboo wallcovering a clean straight edge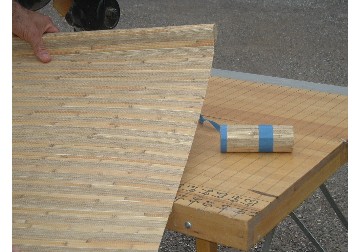 ---
Return from Cut Bamboo WallCovering to Home Page