Decorating with Bamboo Wallpaper
If you are thinking about decorating a room and want to use an eco-friendly and renewable resource then bamboo wallpaper is an excellent choice.

Bamboo is both decorative and useful and is sourced from bamboo grass which is the fastest growing woody plant in the world – growing from one to four feet per day. For more information on this amazing grass then look at this article posted on the gogreen-lifestyle blog. Bamboo 
Bamboo is an excellent choice for decorating in any room, including the bathroom. (There are more ideas on decorating in bathrooms here)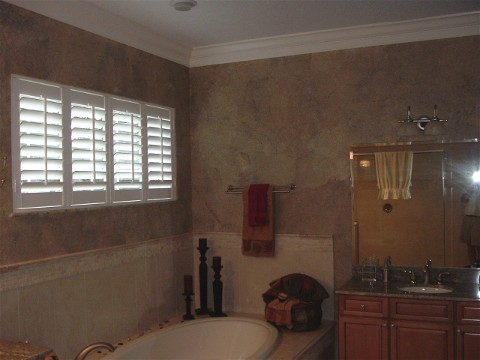 Bamboo wallcovering is a particularly good choice for decorating in bathrooms because it does not shrink and swell like many other hardwoods, or warp due to fluctuating air humidity. This is particularly a bonus in Florida as many residents are only too aware of the high humidity levels we suffer from in this State!
Bamboo wallcovering is made of hand made natural fibers and as such provides a unique decorating source; each roll of bamboo wallpaper will be slightly different and it is this uniqueness and individuality which I think contributes to the charm of using any of the textured wallcoverings, including bamboo wallpaper.
If you are interested in decorating with bamboo wallpaper then there is an extensive choice of bamboo wallpaper available to purchase here at reasonable cost. Wallpaper Specials from Burke Decor 
Installing bamboo can be a little tricky and this is one paper that I would not recommend for a DIY project unless you are reasonably experienced in hanging other types of wallpaper; instead I would recommend that you use the resources of a professional wallpaper installer. Get a free estimate from Hunter WallCoverings 
As I have outlined here How to Cut Bamboo Wallpaper from the wallpaper hanger's point of view, bamboos can be a challenge. Grasscloth wallcoverings generally cut easily, but because bamboo papers are thicker it is more difficult to cut bamboo wallpaper.The easiest method I have found to cut panels of bamboo wallcovering down to size is to use a circular chop saw as it works well to cut the edges of the bamboo wallcovering cleanly and it is extremely quick and efficient - no more struggling to saw through the bamboo with tin snips.Once installed, bamboo can last for years. As it is a natural resource the paper may darken over time, but that is part of its unique appeal – as is the fact that as with all textured wallcoverings the seams will be visible. One way to eliminate seeing the seams – if you really don't like this aspect of decorating with bamboo papers – then it can be "rail-roaded" that is hung horizontally and this method works particularly well if you use bamboo wallcoverings under a chair rail.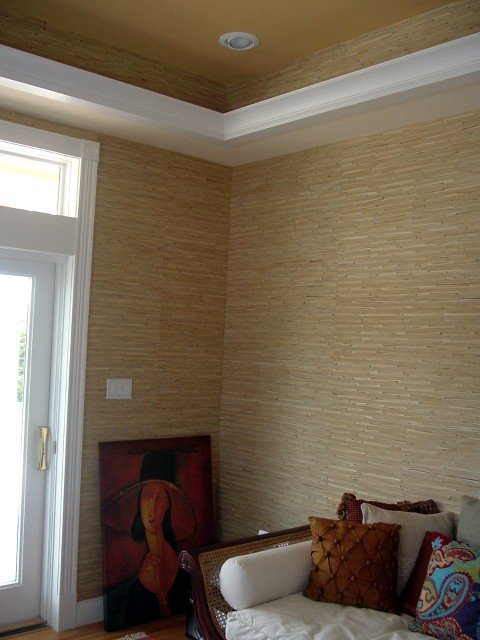 Return from Bamboo Wallpaper to designer-wallcoverings